ABTT Bronze Award for Theatre Technicians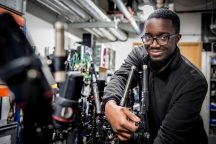 The ABTT Bronze Award Course is a SCQF Level 7 qualification which is recognised through the Industry. This is a practical Course which intertwines theory to ensure your day-to-day skills are validated with the correct technical knowledge to keep you and your colleagues safe.
What is the Bronze Award for Theatre Technicians?
The Bronze Award is a five day course which gives candidates knowledge and understanding of best practice.
Whether you are working in regional rep, touring, multi-art form studios, community theatre, in the West End or as a freelancer this course is applicable to you.
The Bronze Award delivers the first vocational step for professional development for the theatre technician and is undertaken in various venues throughout the year.
So if you are looking at starting out in the Industry, or need to validate your skills with a recognised qualification, this course is for you.
Who can do the course?
Both ABTT members and non-members are eligible to take these courses – though it is often be cheaper to become a member prior to booking.
1. Candidates should begin by taking the Bronze course, before the Silver or Gold Award.
2. Those wishing to pursue the Silver or Gold Award should be able to demonstrate that they have attained a similar level of understanding as achieved in the previous courses.
3. At Gold level, candidates cover formal risk management skills required by managers, HODs or supervisors
How is the course structured?
The course is split in to five sections, these include:
1. An Introduction to Health & Safety and Manual Handling
2. Electrical Fundamentals
3. Knots & Splicing
4. Safe Use of Temporary Access Equipment
5. Fundamentals of Flying
This is followed by the Bronze Award Test.
You can sit the full course and receive a full certification.
Alternatively you can pick individual modules that are best suited to your interest to develop your skills, however you will not achieve the full SCQF qualification if you do not complete the full course. Instead you will receive individual CPD Certificates for each module completed.
What is covered in the course?
Module 1: covers manual handling, musculoskeletal injuries, injuries caused by the handler and UK Theatre/BECTU Code of Conduct for Fit-ups & Get-Outs
Module 2: includes Basic Electricity; measuring; resistance; power; electrical supply; generation; AC/DC; frequency; three phase and an introduction to IEE Regulations
Module 3: covers the handling of different ropes, tying knots proficiently and safely by practical demonstration – enabling differentiation between natural and man made fibre ropes, splicing rope ends.
Module 4: introduces step ladders (inc. Zarges), ladders, trestles, Tallescopes, mobile scaffolding, selecting appropriate equipment, planning and managing work at height, inspection and record keeping, manoeuvering and assembly.
Module 5: teaches safe handling of counterweight sets and hemp, covering terminology, parts of a counterweight set, loading and unloading, operating, first line maintenance, single/double purchase systems, knots in practice, tying off at a pin rail, spotting and other methods of hanging.
How do I progress after this course?
Once a Bronze Award has been achieved, many students decide that they wish to specialise and do a further "Silver Award" course in a specific area, clarifying their area of expertise and direction of their career.
We offer Silver Courses in the following areas:
ABTT Silver Award for Theatre Electricians

ABTT Silver Award for Stage Technicians
ABTT Silver Award for Sound Technicians

For more information about what is covered in each of our Silver courses please click the above links.
How much does the course cost?
ABTT Members: £740 + VAT
Non-ABTT Members: £855 + VAT
Price includes RCS Certification to SCQF Level level 7, ABTT Codes of Practice and Log Book. You must complete all five days and successfully complete the Bronze Award to obtain full accreditation.
(A £100 deposit is required to secure your place).
How do I apply for the course?
To apply for the course, simply take a look on our Training and Events Calendar to see when the next course is running. The application form will be available on that page and you will just need to fill it in and return to the ABTT Office via email or post. Please be aware that your course place will not be secured until full payment or purchase order has been received.
Availability:
This course is run throughout the year at various locations. You can find out when our next course is here.
Our ABTT Bronze Award course can be also scheduled as in-venue training. To enquire about hosting this course please contact us on: training@abtt.org.uk
The Bronze Award surpassed expectation, with more practical work than I had expected. The lecturers were all passionate about what they taught us and that helped me engage. I feel more proficient in all the fields the modules covered and the documents we received are more than enough to digest and help me develop even further.

ABTT Bronze Candidate, Summer School 2018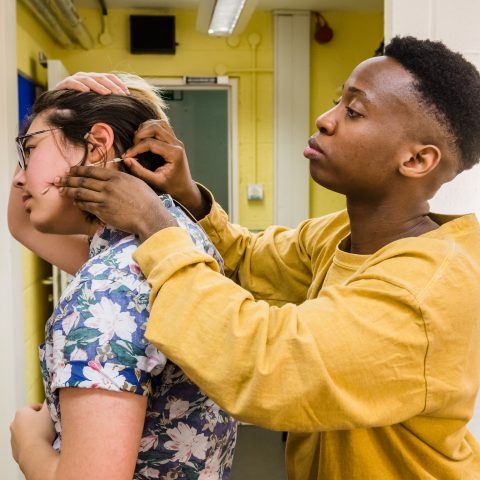 Apply for ABTT Training!
What are you waiting for? Sign up to your next ABTT Training Course and validate your skills today.
Find when the next course is running here.