ABTT Safety Committee Meeting – March 2022
M
31 March 2022 | 2:00 pm - 4:30pm
Zoom, Online Event
This meeting is invite only.
Why we need people like you:
If you would like  to assist with the creation of new guidelines, help amend existing codes of practice and content for Technical Standards for Places of Entertainment and participate in the ABTT Safety Committee, please do get in contact as we would love to hear from you: office@abtt.org.uk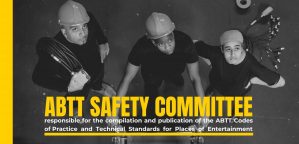 One of our main aims is to provide simple guidance for our industry in the easiest format to follow. We want to make following Health and Safety Standards simple.