ABTT Seminar: Wigs, Hair and Makeup – Innovation in Action
Member's price FREE
Non-member's price FREE
10 June 2021 | 3:00 pm - 4:00pm
Zoom, Online Event
Book now to avoid missing out – limited tickets available.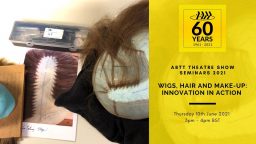 About this event
Representing the work of the ABTT Wigs, Hair & Make-up Community, Anette Ollerearnshaw has invited guests to ruminate over the creative and technical aspects of their specialist field.
Hair & Make-up in Performance is a Live Art that is performed anew each time we are in front of an audience. It requires a lot of technical expertise, creative flair, emotional intelligence, as well as a dynamic understanding of the human body in relation to stage technologies and performance spaces.
Innovation often happens in front of our eyes and sometimes is simply a fleeting moment that makes theatrical magic happen. This webinar is a chance for us to reflect on the strides the WHAM community has made over recent decades, to share our experiences with each other and the wider Technical Theatre community.
Speakers:
Rachel Kooyman

Rachel Kooyman was drawn to live theatre as a performer before being given the opportunity to create in the world behind it.  She has a Bachelor's in Music and is a classically trained singer who spent a decade as a performer from theme parks to countless musicals.
With equal passion she began working in the beauty industry for such prestigious companies as Benefit (LVMH), Bobbi Brown and Urban Decay as an Executive in New York City.  Taking a leap, she attended Makeup Designory (MUD) in Burbank, California where she transitioned into Film and Television, garnering over 80 professional credits to her name.
Her two careers collided in the Netherlands where she had the pleasure of working in the Kap & Grime Department with the Dutch National Opera & Ballet, heading the Makeup Department for Karl Heinz Stockhausen's epic 3-Day Cycle of "Aus Licht".
Anette Ollerearnshaw
Anette Ollerearnshaw is a performing arts professional, with a wide range of expertise rooted in technical, production and operations management, gained through working at the forefront of world-leading arts organisations and higher education providers.
She has worked with established and emerging talent from a across the collaborative arts and feels most at home at the intersection of people, materials, spaces and the sense thereof. Her creative and artistic specialism is the Art of Wigs, Hair & Make-up in live entertainment and theatre.
Notable collaborations have included Robert Wilson's 'The Black Rider', Terry Gilliam's 'Benvenuto Cellini' at the English National Opera, Karl Heinz Stockhausen's 3-day marathon performance of 'Aus Licht' with Dutch National Opera & Ballet at Holland Festival and the Gorillaz' musical theatre spectacle 'Monkey Journey to the West' at London's O2 Arena and New York's Lincoln Centre.
Dawn Rivard
Dawn Rivard has designed for productions in Germany, Austria & Switzerland, & she has an Emmy Award for FEAST OF ALL SAINTS.  She has built wigs for Mike Myers, Queen Latifah, Christopher Walken, Jessica Biel, Sir Peter Ustinov,  Jonathan Rhys Meyers & Lily Collins (TMI CITY OF BONES) which garnered her a Canadian Academy Award; & she has done wig & makeup work at Teatro alla Scala, Seville's Teatro de la Maestranza, Turin's Teatro Regio, the Canadian Opera Company for eight seasons, & works for Jeff Daniels' The Purple Rose Theatre Company.
Broadway productions includes RAGTIME, SUNSET BLVD & SHOWBOAT, & she designed hair & makeup for The Dallas Opera as well as the World Premieres SISTER CARRIE & two-time Grammy Award winning ELMER GANTRY.

Helen Diana Wake- Wig Maker. Wig Supervisor. Tutor.
Helen has a wide range of experience in the wigs, hair, and makeup field, gathered over several decades in the profession. She has worked on plays, musicals, ballet and opera, on tour and in the West End.
Whilst at English National Opera Helen supervised such wonderful and diverse productions as "Satyagraha", "Turn of the Screw", "Peter Grimes", "Death in Venice", "Punch and Judy", "Kismet", "Medea", "Carmen" and "Tosca".
Helen also worked abroad in Norway, Luxembourg, Brussels, Dublin and for Dutch National Opera. "Otello for the Trondheim Festival in Norway was particularly notable as Helen trained 15 young hairdressing students who had never worked in theatre before, to run a full scale and busy opera.
Live broadcasts and videos include David McVicar's "Rape of Lucretia", Deborah Warner's "Death in Venice" and David Alden's "Peter Grimes".
Recently, Helen worked for Campbell Young Associates as a Senior Wigmaker but missing live performance she returned to the theatre and now works as a freelance wig maker and tutor.

Sidney Vereycken
Sidney Vereycken started working in Musical Theatre on shows like 'Wicked', 'Sister Act' and 'Billy Elliot', produced by Stage Entertainment. In 2015, he worked on the production 'ANNE', directed by Theu Boermans.
In 2016, Sidney continued to refine his talent in the Wigs and Makeup department at the Dutch National Opera and Ballet, led by Alexander Kinds. This is where he was able to take his wig making skills to the next level. During this period, he led production teams on wonderful productions such as 'Porgy and Bess', 'La Cenerentola' and 'Pique Dame', in collaboration with world class designers like Catherine Zuber, Laurent Pelly and Philip Fürhoffer. He has created especially wigs for remarkable artists such as Eva-Maria Westbroek, Anna Drijver and Alfie Boe.
Sidney has also worked on productions for the Flemish Opera such as Pelléas et Mélisande, Lohngrin, Rusalka and Carousel at the English National Opera. In addition to his contribution to the theater, Sidney has worked on several film and television productions as a Hair & Makeup Artist and Wig Maker. In 2019, he joined the team of 'Coppelia the Movie', directed by Jeff Tudor, Steven de Beul and Ben Tesseur. The same year, he also created the hairstyles and make-up looks for Angel Blue and Eric Owens for the campaign shooting of Porgy and Bess, of the Metropolitan Opera, New York, with photographer Paola Kucdaci.
Featured events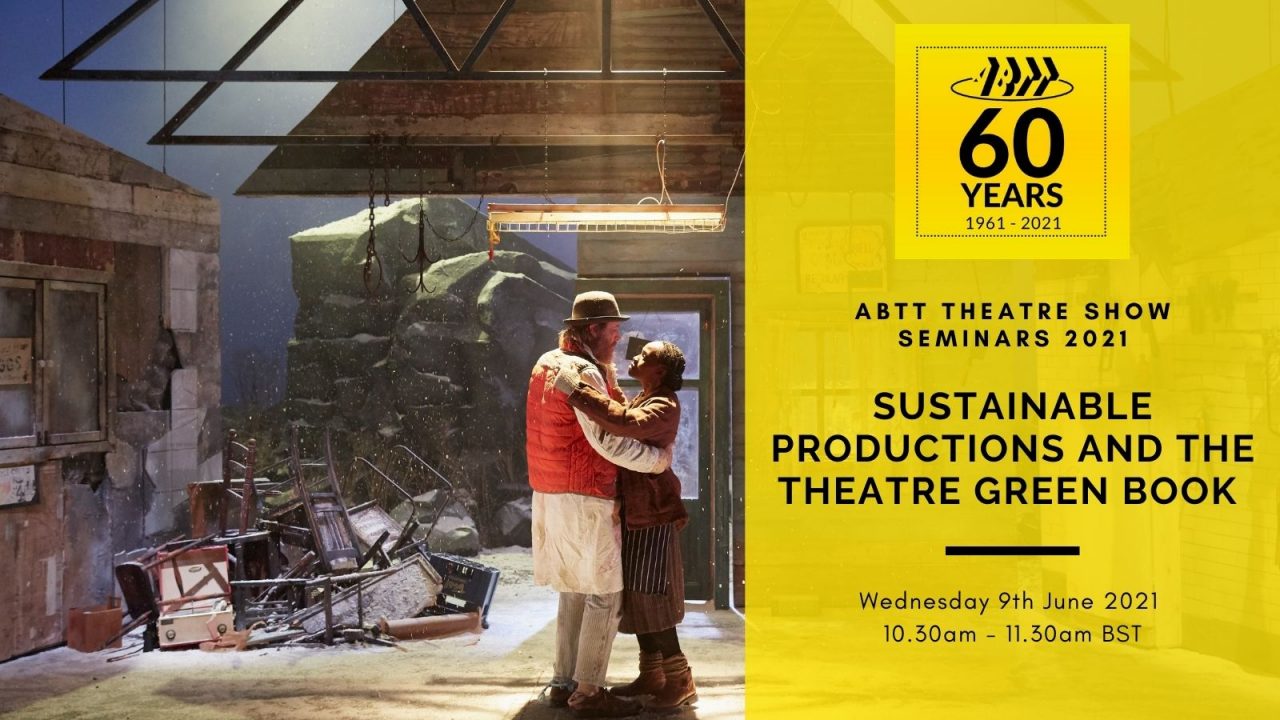 ABTT Seminar: Sustainable Productions – The Theatre Green Book (Volume 1)
10 June 2021
Zoom, Online Event
Find out more